The Faith and Arts Fund was established to give expression to the Church's commitment to worship and the arts. The guiding principles of the Fund shall be service to the community, education of artists and worship leaders, spiritual inspiration and enrichment, and the encouragement of artistic endeavors in the furtherance of worship.

October 1 - December 19, 2023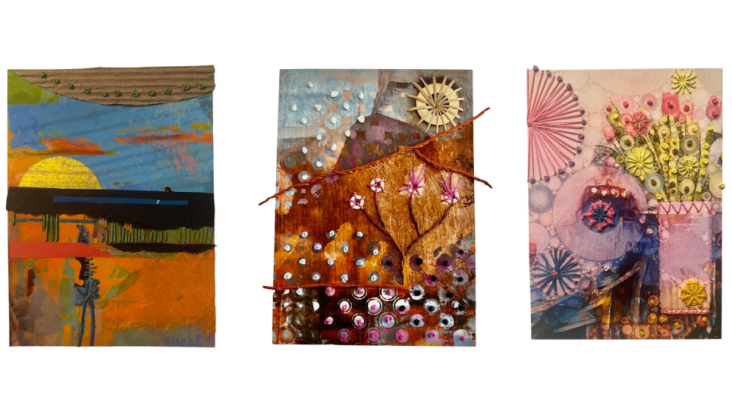 An avid collector with a house full of art, Sandra Freeman decided it was time to see what she could make herself. She enlisted the support of her husband, Charlie, a commercial photographer, about 15 years ago and started to learn photography. "I think I have an innate sense about design," she said, "but I wanted some technical proficiency to see what I could do with that." She mastered photography and took traditional pictures, always with a twist. "I have photos of beautiful plants, but they're printed in sepia tone," she said.
Photography led her to digital applications that allowed her to create random fine art patterns that she printed with archival inks on heavy, archival paper stock. To these backgrounds, she began to create designs using embroidery thread and stitchery techniques. "I had learned to paint also, taking every sort of art class that interested me online." She says ironically the Covid pandemic forced a surge in online classes and video interviews with established artists all around the world.
Freeman began to paint abstracts, primarily, and favored "tiny paintings," believing that other collectors might have run out of room for big art just as she had. But her main reason? "I think small pictures make people lean in and really look," she said. "It's the ultimate art experience, to try to see and comprehend what the artist is trying to say."

Her new work with stitchery and photography is also made in a small format—5x5 inches or 5x7 inches typically. Her mixed media pieces mimic actual paintings, with meaning, messageand emotion inherent in the concepts. Devoted to experimentation in her work, she is on the lookout for found objects wherever she is, and spends time in the hardware aisles of big-box home improvement retailers. "I found some washers I wanted to use, and gaskets." She transformed the shiny washers into rusty circles to use in the stitchery pictures and sewed rubber gaskets into her work. "I see things and readily put them together," she says, speaking primarily of materials. "I'm working now with plastic netting, chopping it up to see what I can make of it." She doesn't want people to mistake her creations for craft. "Crafters are brilliant, but that's not who I am and that's not what my art is," she said.
The Dallas native had several careers before taking photography and other art seriously as a full-time pursuit. She has been a teacher, a real estate agent, an art agent and a personal assistant among other endeavors. "I just love art," she says. "I am surrounded by it in my own space and I seek it out everywhere." Making it, then, makes perfect sense and delightful images.