COVID-19 Updates
Reopening Task Force Update (3/7/22)
Starting April 3, 2022, with this guidance and an eye toward caution, the Deacon Board has approved the following Re-Opening Taskforce recommendations for in-person gatherings:
Mask wearing will be recommended but not mandatory. This recommendation will apply to all congregational activities including Worship, Choir, Sunday School, Youth and Children (nursery workers may be an exception)
We will remove the pew physical distance signs in the Sanctuary
In-person, small group meeting may proceed as prior to the pandemic if desired.

It was recognized by the Task Force that some groups will want to continue to meet remotely in some circumstances

When appropriate, the Nursery can be re-established. Nursery workers will have a requirement to be fully up to date on vaccination
Reopening Task Force Update (6/2/21) - In-Person Worship Safety Measures
Reopening Task Force Update (3/8/21) - The Mask Mandate

Reopening Task Force Update (2/24/21) - Understanding the Vaccines
Reopening Task Force Update (8/6/20)


Reopening Task Force Update (7/1/20)
Reopening Task Force Update (6/17/20)
From Your Reopening Task Force (6/1/20)
"So, my nephew was having a birthday party and we were celebrating one of my cousin's graduation Friday night. I brought a mask, but no one else was wearing one, so I didn't wear one because, you know, we are family. There were about 25 people there including my one cousin and her baby. She and I hugged each other and I held and played with her baby. She kinda had a runny nose and she was complaining of allergies. The next day she started having a fever and she went to the doctor. It took about 6 days to get her test results but today, she was told she tested positive for COVID-19. My cousin had traveled about 2 weeks ago but she was not sick until the day after the party."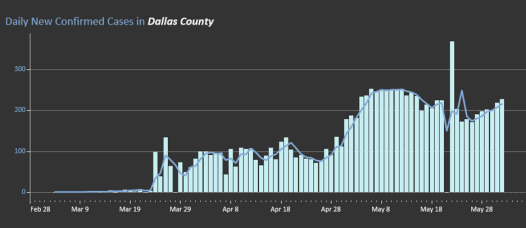 The scenario above is a real scenario, repeated every day. We all miss each other and we are tired of physical distance. The graph above is one metric I use as an indicator of when we might be able to open the RLBC sanctuary for Sunday services. But there are challenges to understanding what the information is telling us.
When we look at the number of new cases diagnosed, what do we see? We see the behaviors of people about 3 weeks ago. So the number of new cases reflects the behaviors of people on May 13. Governor Abbott started opening the state on May 1. Daily New Confirmed Cases is a 3-week trailing indicator of COVID-19 activity in the county because from exposure to illness is typically 14 days and from illness to testing results another 7 or more days creating the cases on June 3. It takes 3 cycles of 3 weeks to provide a clear statistical trend.
What we want to see is a consistent downward turn in the number of new cases (3 cycles of 3 weeks or 9 weeks) before we can feel good about opening the sanctuary. This sounds like a long time. It is. And, we want to be safe.
When the reopening begins, it will be in the sanctuary with reduced seating capacity, social distancing, masks, hand sanitizer/handwashing and meticulous sanitizing regimens for the building. Family groups will sit together as we are generally immune to the "germ pool" of those with whom we live or have frequent encounters. With this said, each person with whom we interact has many others they interact with and each of those have still more contacts. The smaller our germ pool, the less likely we are to become infected.
Until this is really settled down, all services currently offered online will continue. The Task force is aware of the needs of some parishioners with regard to technology. We are concerned and working on potential solutions or ways to mitigate the impact.
COVID-19 – Trends by County: https://bit.ly/2U3J8v2
COVID-19 Projections: https://bit.ly/2U3JpOA
James Luckett, Melissa Walker-Luckett on behalf of the Reopening Task Force
Terry Berrier, Alan Greider, Harry Hunter, Greg King, Bettie Meachum, Sandy Washington, Cathy Webb and Jacquie Wooten and a special thank you to the ladies sewing cloth masks.
Announcing Royal Lane Baptist Church Reopening Task Force (5/11/20)
Good day, beloved friends,
With the announcement of Governor Abbott's plan for a staged lifting of quarantine or shelter in place orders, the Pastor and staff began to consider the best plan for our community. In consultation with internal and external professionals including members of the medical and business communities, it has become apparent that we at RLBC must begin steps toward our own reopening. Upon conversation among staff and Deacon Leadership it was decided that a Taskforce should be formed and appointed by the Chair of the Deacons to move us toward reopening our doors. The Taskforce is charged with developing a plan for a gradual reopening consistent with the desires of the community to gather and cognizant of the health needs of all, informed by the recommendations of the Centers for Disease Control (CDC), other national health organizations as well as state and local regulations and laws.
Deacon Chair Paulette Harrison recommended the appointment of the following persons to act as the Taskforce and the list was approved by the Deacon body. All have agreed to serve.
Co-Chairs:
Jamie and Melissa Walker-Luckett
Members:
Terry Berrier
Alan Greider
Harry Hunter
Greg King
Bettie Meachum
Sandy Washington
Cathy Webb
Jacquie Wooten
The Taskforce will be planning toward a timeline of mid to late summer, for in-person worship in the sanctuary only. All online activities will continue as they are.
Conservative Safety and distancing guidelines set by the CDC, the medical community and local and state officials will be followed. (i.e. seating of six feet between family groups, alternating between empty pews, face coverings (cloth masks), hand sanitation upon entering and leaving, compliance with percentage of occupancy guidelines).
We recognize some of our congregation may still be uncomfortable with returning to the church building in mid to late summer. The staff will continue the livestream in order to provide worshippers with connection to the online worship community.
In the past July has been a sabbatical month for Wednesday evening gathering. We recommend that be the same this summer. The staff and Taskforce agree that resuming regular, in-person Sunday school and Wednesday evening services will be a flexible target for August. During June and July no small groups will meet in person to make certain the educational spaces, children's area and Vickery Hall are ready to safely accommodate our small groups in August. All Small groups utilizing Zoom will continue meeting virtually.
There is much to be done, details to be determined, practices and procedures to be articulated that will keep our worshiping community vibrant, welcoming and safe for all. Be prayerful for all the Royal Lane Community. Volunteer to help or say "yes" when asked to participate in making our sanctuary a safe place and our fellowship and education practices filled with life and growth.
We will keep you updated, welcome your involvement using your gifts and will be always mindful of our congregational and individual health needs.
Sincerely,
The Task force for reopening RLBC
Pastoral Memo About Reopening Royal Lane Baptist Church (5/1/20)
Dear RLBC Congregation,
It would be an understatement to say that I miss you. I miss our cherished, in-person gatherings for worship, fellowship, and study. But we are Baptists, Baptists who value the freedom and responsible practice of religion, as well as the autonomy of the local congregation. And it is these values that guide us as we ponder the timing of resuming our in-person activities together. Beginning Friday, Phase One of Texas's plan to reopen gathering places will commence. Phase One reopens restaurants, movie theaters, malls, and churches at 25% capacity. With this in mind, I want to share an update on the re-opening of Royal Lane Baptist Church.
The Royal Lane staff has been meeting weekly to assess the safety of our members and the continued virtual connection opportunities we have with one another. I continue to meet weekly with the Deacon Chair, Paulette Harrison, to discuss and consider our current situation and the possibilities of reopening. In all my conversations with staff and leaders, we believe it is faithfully prudent to rely upon the expert opinions of our scientific and medical community, such as the CDC and the Texas Department of Health Services, and not reopen the church, even at a reduced capacity, at this time.
There are almost 28,000 cases of Covid-19 in Texas and 776 people have died so far in our state. According to a widely used model circulated by The Institute for Health Metrics and Evaluation (IHME), an independent population health research center at UW Medicine, part of the University of Washington, Texas is now experiencing its peak of cases and should not relax containment strategies until June.
At this point, with no reputable public health professions endorsing reopening churches in Texas, as well as Judge Clay Jenkins clearly stating that lifting the sheltering in place rule is premature, we have no clear signal that it is safe to resume in-person worship. If we reopen now, we believe we run the risk of spreading the virus within the congregation and out into the community. It will always be the purpose of Royal Lane Baptist Church to protect all who are vulnerable, including those at risk of catching Covid-19.
So, where do we go from here? How will we know when it is time to meet again for worship? Honestly, I don't know. What I do know is that the time has not yet arrived. However, like you, I want us to be prepared, flexible, and in constant communication with you as we move forward. To accomplish this, Paulette and I, in consultation with the staff and the deacon officers, and with a unanimous vote of the Diaconate, have created a Reopening Task Force to gather information, consult professionals, and answer the many questions we might have as we reopen the church. We are fortunate to have the medical and congregational skills of Melissa Walker-Luckett and Jamie Luckett as co-chairs of this newly developed task force. Melissa and Jamie will communicate with us in the coming days about the makeup of the task force, the informed decisions being made, and how those decisions affect you and the reopening of Royal Lane.
In the meantime, I hope we can stay connected and bring God's house into your house. Many of you have already joined me for Wednesday Bible study, Midday prayer on Fridays, various ministry and Sunday School meetings, and our virtual worship service on Sunday mornings. Our Missions Committee also remains committed and supportive of local service organizations which provide "frontline" help to those most in need during this crisis.
The day will come when we will be together again, face to face. Until then, I want everyone to be safe and protected. I know that the Holy Spirit and the bonds of community will connect us from afar and that the love of God will continue to hold us together in the days ahead. I am praying for each of you daily.
In this together,
Pastor Mike Gregg
STAY CONNECTED
The ministers and staff will find ways to help you stay connected when you are away. We have livestream capabilities, and we hope to send you a virtual worship experience on a regular basis. This amended worship might be a devotional, singing, praying, and/or scripture reading. Worshiping God in the midst of fear and uncertainty is crucial. You will find links to digital worship experiences here.

GIVING
We also hope you will continue to give your tithes and pledged offerings to the church as our work will still happen in the midst of the coronavirus surge and after the virus has run its course. We have multiple ways to give.
Give by Text
Text GIVE to 214-609-1200
Give by MAIL
You may mail checks to:
Royal Lane Baptist Church
6707 Royal Lane
Dallas, TX 75230
Update from 3/13/20
In collaboration and communication with the ministers, staff, and deacon officers, we have made the decision to suspend all gatherings and activities at the church. Dallas County has issued a state of emergency and has banned large group gatherings. And so, it is with an abundance of caution for the health and well-being of our congregation members that we have decided to suspend in-person worship, midweek activities, small groups, meetings, and rehearsals through Wednesday, April 1. We will continue to assess if the suspension of gatherings and activities needs to be extended further.
As you know, this is an ever changing and very complicated time. If you know of anyone affected by the coronavirus or the negative effects of minimized municipal services, please let me know at Thank you for your patience and understanding as we continue to be a community of hope to each other and our neighbors in Dallas.
Pastor Mike Gregg